ABOUT US:
Launched in September of 1997, Pornotopia.com is solely owned and operated by the husband and wife team, Sagemonn and Karynna. Here, this creative duo showcases their erotic fantasy art of unusual concept and technical mastery. The majority of the art is digitally created, placing them among the forerunners of the new wave of technologically oriented artists.
The tone of their erotica is decidedly hardcore, their unique and often humorous depictions of sexual themes cut across the boundaries of science fiction, mythology and the whimsical. It is a place populated with robots, minotaurs, aliens, angels and mythical beasts of all sorts...engaged in no-holds-barred adult action.
Their website contains, at present, the award winning full-feature 10 chapter 3d animation of Zuma, Tales of a Sexual Gladiator; a progressively evolving gallery of 3D computer animationed shorts --called "Pornomations;" over 200 individual art pieces plus details, commentary and stories; nearly 115 pages between three original adult graphic novels; and a series of short comics featuring a 3d modeled character called Fezner Turkle.
Pornotopia.com's product offering has increased from a website and print offering to a High Resolution collector's archive on Cd-rom called Hardrotica II. In July of 2004, they launched their exciting new DVD video, PornoMation--which has been picked up for distribution by the "always fresh and juicy..." CherryBox x x Pictures of K-Beech Video. In June of 2006, they launched another 3d Animation DVD, PornoMation 2--which is also distributed under the Cherry Box x x Pictures banner.
Sagemonn and Karynna create new content constantly, and post updates as often as possible. Their dedication to providing the finest in adult fantasy and entertainment has lead to a selection of works that have enjoyed showings at The Annual Sensual and Erotic Art Exhibit sponsored by The LifeStyles Organization on a yearly basis for over a decade.
In 2005 year, thru the partnership efforts of the XArtGallery and the LifeStyles Organization, Pornotopia.com has had a showing of their traveling fine art tour (prints and sculpture) and their PornoMation (1 & 2) Videos at The XArt Gallery in Los Angeles, CA, The Erotic Museum in Hollywood, CA; The San Buenaventura Artists' Union Gallery in Ventura, CA and will see showings at the LifeStyles Art Show and the LA Erotica / AVN events of 2005, 2006 and 2007.
Playboy TV's, Sexcetera, dropped by the little Oregon, USA town for a visit with Sagemonn and Karynna. The up beat and entertaining show has reached an appreciative couples audience that has consistently enjoyed the quirky SciFi-Fantasy Beauty and Sexual Philosophy of Pornotopia.com.
Shortly after the launch of PornoMation 2, Wired.com's Regina Lynn, offered a wonderful mention of Pornotopia.com in her article: Smart Girls Need Smart Porn.
The notable AVN Awards have also graced Pornotopia.com with their notice. PornoMation won "Best Alternative Release" in 2006 and PornoMation 2 won "Best Animated Release" in 2007.
Sagemonn and Karynna have also enjoyed positive reviews and features on their work from popular print publishings and online resources, all over the world. Please, see Print and Online Features, below.
---
TOP | ABOUT US | PRINT FEATURES | ONLINE FEATURES | ENDORSEMENTS
---
PRODUCT OFFERINGS:
30 Day Pass
Pornotopia offers the most recent updates to the breadth of their 3d animated "PornoMations," fine art gallery and story collection at web (cable recommended) resolutions, here. Join their membership with State-of-the-art secure billing services thru CCBill.com with credit card, online check, and 900 number transactions. A mail order option is also available: DETAILS
PornoMation 2


Their most recent DVD Video creation contains a full-feature 3d animation and two bonus shorts. Zuma, Tales of a Sexual Gladiator is a radical yarn with magnificent Sci-Fi proportions. Anything goes as this female sex slave must win her freedom in the most unusual of Games. It sells for $25 and is available by secured credit card transaction or mail order. DETAILS

PornoMation

This DVD Video has been a pleaser as background entertainment at adult parties and on those hardcore romantic dates. It contains three features: Animations - a collection of their 3d animationed shorts, Stimulations - a finely crafted presentation of their gallery art set to erotic music and Visitation - an interview detailing their journey with Pornotopia.com. It sells for $25 and is available by secured credit card transaction or mail order. DETAILS

Hardrotica II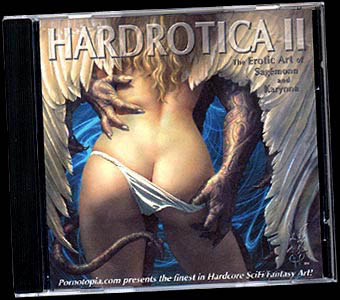 Their hybrid (Windows/Mac) cd-rom contains full archives of Pornotopia.com and ErosZona.com from September, 1997 to May, 2001 in high resolution quality. It also includes a very well received 8.5 minute video anthology set to erotic music. It sells for $15 and is available by secured credit card transaction or mail order. DETAILS
Prints
Pornotopian art can also be acquired as signed premium quality 18 x 24 inch Giclee (iris) prints on fine art papers or photo quality inkjet prints on archival watercolor papers. While there are a few avid collectors with the courage to put Pornotopia's XXX explicit beauty on their walls...the greater portion of prints are sold from their Softcore offering at ErosZona.com. DETAILS
Free Art
Pornotopia offers an all free softcore only erotic art site called ErosZona.com. It is filled with similar science fiction and fantasy themed art as Pornotopia and has its own print shoppe and reviewed links.
In The Works

Sagemonn and Karynna have written a new script and are busy at the task of producing PornoMation 3. Together, they merge their artistic skills into a symphony of creation--designing characters and sets, modeling the 3d Universe that will support their story, contributing voices for audio, adding FX and editing to a final presentation. Sagemonn animates and Karynna scores the supporting music. These do-it-all artists are a complimentary duo of talent.

Sagemonn devotes every free moment to mastering the leading 3d animation software, Alias Wavefront's: Maya. His focus is to produce animated imagery with the fine quality associated with his signature digital imagery.

Karynna continues to expand, promote and update the Pornotopia.com and ErosZona.com websites, increasing their user friendliness and interactivity....along with her usual duties of customer service, promotion and business management.
---
TOP | ABOUT US | PRODUCTS | ONLINE FEATURES | ENDORSEMENTS
---
PRINT FEATURES:
Penthouse Magazine
Eurotica's Sizzle Magazine - published by NBM Publishing (volumes 2 & 4 cover art; volume 6, pages 45 - 48)
Visions of Erotica - by Miss Naomi and published by Schiffer Art Books
The Complete Idiot's Guide to Sex on the Net - by Jim and Rachel Anders, published by QUE, 1999
Sexy Thinking Magazine - quarterly issues #4, 1998 and #2, 1999; published by Successful Thinking
Siren Magazine - monthly issues #10, 2000 and volume 2, issue 1; published by Psiren Publications
Hustler's Erotic Video Guide - Volume 15, Number 10, October 2000; published by Larry Flynt
Digital Beauties - 2001; edited by J. Wiedemann, published by Taschen
Desire, Erotic Inspiration for Women & Men - issue 39, December/January 2002; published by Moondance Media Limited
UNION, Le Guide International des Rapports Humains - January 2002
Desire, Erotic Inspiration for Women & Men - issue 40, March/April 2002; published by Moondance Media Limited
Club International - volume27 issue 1, January 2003; edited by Billy Chainsaw, published by Paragon Publishing, Inc.
The World's Greatest Erotic Art of Today, Volume 1 - 2007; published by ES Publishing
---
TOP | ABOUT US | PRODUCTS | PRINT FEATURES | ENDORSEMENTS
---
ONLINE FEATURES & REVIEWS:
Admittedly, this is a category that has been hard to keep up with. Distinction and prestige on the internet changes at a whirl wind pace. Following are reviews by still thriving and meaningful favorites and once bright stars. Luckily, we have been able to keep our heads above the sometimes mirky waters of digital frenzy.
Our Always Most Current Online Friends
Can be found at our Top Sites List giving notice to other winners in the Erotic Art Genre who grace us with their generous support.
Janesguide.com

"I visited the site today, and wanted to let you know that I'm sending it out as "alternative site pick of the week"...I'm also putting it in my "bookmarks" page- I guess you can tell that I think the site is WONDERFUL! so refreshing to see original, high quality content on the web. We don't get to see enough of it.
...If you like hardcore art, this is a must-see..." --Jane
Re-reviewed in 2005.01.17, Pornotopia.com has been honored with the distinguished "Peter's Picks" award.
ScarletLetters.com
Heather Corrina presents a gallery expose of our works in her Winter, 1999 Future Shock: Sex on the Edge of the Millennium edition.
LibidoArt.com
From the Libido Art Galleries, - A Bi-Weekly Web Magazine Exploring Erotic Naturale', January 21, 2000 - Volume 1 - Edition 16:
They say, "...Enjoy a premium and original source for the beautiful, bizarre and fantastic! ...a Pornotopia of bizarre xxx erotic art and fantasy is the right place for different and superior quality Hot bold kinky beautifully bizarre erotic fantasy!" ...and I think they're onto something here. It's a pay-site but go take the tour. There's enough in there to give you serious thought, if not at least titillate the senses. Sci-fi erotic fantasy is rampant here. And imaginative. And yup, often downright kinky. Yikes! Be forewarned: it's hardcore, but still it's high-quality and provocative.
ABOUT.com
James Martin--ABOUT.com's Guide to Amatuer Erotica posted this generous review 6/5/99:
DIFFERENT STROKES:

This is an exciting time for followers of the erotic. Sites pushing the limits of technology, smashing the limits of gender roles, and examining the odd nature of the way our brains react to sexual fantasy are popping up all over.

Let me get right to it.

Pornotopia is a site conceived by masterminds Sagemonn and Karynna. The theme is fantastic utopian couplings and the art is both sexually hot and magnificent.

Many attempts by artists to meld the erotic and the fantastic fall short. Raw desire isn't a subject for art, the common knowledge goes--it's called porn and it's bad for you the maniacal moralists proclaim without proof. So many artists, it seems to me, skirt the messy issue and leave you wondering why they didn't just stick to landscapes of craggy coastlines or portraits of equally craggy mothers.

Not Sagemonn and Karynna. Not by a long shot.

There is a preview area that allows you to view one large size graphic from each of 8 categories. There's also a totally free site called ErosZona where you can find more totally free graphics. Members get the full breadth of the artists work as well as illustrated stories (a drawing with each Panel--monumental works!) And if that weren't enough, memberships are non-recurring!
AOSOTD.com
This site was chosen as

for March 21, 1998.
www.aosotd.com

"Finding stunning and imaginative erotic art that satisfies our slightly perverse but fanciful minds is a hard challenge to meet. Luckily Pornotopia provides superior and sensual 2-D and 3-D erotic images that will far exceed your expectation. Imagine exquisite unclothed women and men in utopian and grave virtual settings 'entangled in copious wonders of orgasmic copulation, submission, domination...'--well, I think you get the picture. Indulge yourself in something new and extreme: visit Pornotopia." --Adult Oriented Site of the Day--Lana's Favorites
---
TOP | ABOUT US | PRODUCTS | PRINT FEATURES | ONLINE FEATURES |
---
MEMBER ENDORSEMENTS:
Pardon my English and my superlatives, but Holy Shit! You guys got one GREAT web site. What I mean is, you guys are really REALLY good. Pornotopia is absolutely, positively, bar none and by far, THE best erotic site on the web - which means on the whole planet!
This isn't your everyday porno. This isn't porno at all. This is everybody's erotic dreams come true. This stuff is positively unbelievable! Fanfuckingtastic!
If I believed in God or the Devil, I'd be perfectly willing to give either one of them credit for leading me to your web site. As it is, I'm jest thankin' dem ol' lucky stars!
From an innocent to a hard core fan in the twinkling of an eye! Oh me! Oh my! Pass me a piece of cherry pie!
---
I bought your cd and I just love it. If you know of a similar one by yourself or a another I would be very interested in buying it. Thanx.
---
Hey, stumbled onto your site from a link on KinkyCards. I am impressed! I'm sending the link to several people right now...just wanted to say your work is terrific and after viewing it, I can't wait for more. Thanks!
---
I wanted to take some time out of my work and let you know that I truly admire your expressions of erotic art. I absolutely fell in love with your site when I went through the tour. The membership fee is well worth it to be able to view the pieces of work you've displayed here. This is the one and only site on the entire web that I have ever seen that directly portrays the type of artwork that I love. I hope you continue working on new pieces. I can't wait to see more. In my opinion you are without question the best digital artists I've ever seen and I hope to keep educating myself to be able to achieve the great talent that you possess.
---
This was the first of any sex-sites that I chose to join in membership, and I am glad I did. I really enjoy this web site. I was at first a little thrown off by "porno" in the title because I feel that the word is too cheap for a site filled with fine erotic artwork. If you meant for the title to be hardcore, you do a pretty damn good job at following it with the contents. The title does a very good job at catching attention, also. The quality of the art is remarkable, the artists do an excellent job of bringing out their wondrous imaginations, making "high-quality erotic fine art" a great way to enjoy sexuality.
Thank you also for the tour site. The information provided is very deeply thoughtful and I found all of the promises made, kept graciously.
---
Thank You! This is one of the best sites I have ever seen. Your art is incredible. I just joined your community and I look forward to seeing what new images you can create. Live Long and Prosper
---
What an amazing site! Absolutely breathtaking, just the sort of thing I've been reading about in my science fiction since I was a kid. And the surprising thing is that I've not come across any of these images before! How did you keep them off other sites? Super stuff! Great stuff! And -- Non automatic renewing (the ONLY kind I do now) membership.